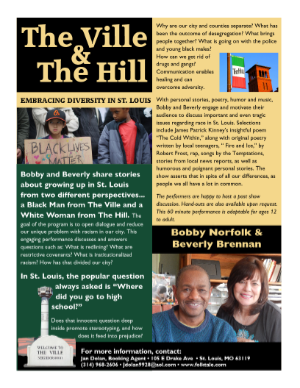 New Program - Ready for bookings now! Call to schedule a performance.
"The Ville and The Hill" shines a bright light on the problems of race and culture in America, using St. Louis as an example. This brand new, highly entertaining and educational performance features two multi-talented St. Louisians: Bobby Norfolk, three-time Emmy award winning storyteller & author and Beverly Brennan, vocalist, educator & humorist. These popular performing artists offer unique insights into race issues, problem solving, communication and positive changes.
Bobby began his career as a stand-up comedian and used his natural talents to become one of the most popular National Park Service Interpretive Rangers at the St. Louis Arch. Using energetic animation and special sound effects, he expertly engages students and teaches through first person narratives, poetry and humor. Bobby was raised in the Ville neighborhood and relates easily to people of all ages. He is one of the few performing artists who can entertain and reach both kids and adults, keeping them interested by offering topical, creative programs. Beverly is the Director of Speech and Theater at Harris-Stowe State University. She is an award-winning master teacher who is popular with students because she uses comedy and drama in the classroom. She grew up in the Hill area of St. Louis, and her great sense of humor and easy going manner is inherited from her Father, Baseball Hall of Fame broadcaster Jack Buck.
This performance promotes a new respect and responsibility in our city through lively and personal discussion. Communication enables healing from tragedies such as Ferguson. Storytelling is all about listening and, quite often enables those who are otherwise too racially deaf or intolerant to make positive changes. Beverly and Bobby tell both sides of the story, discovering that people are more alike than they are different, exposing issues such as stereotyping, ethnicity, ignorance, and fear, and illuminating a pathway to racial harmony. They cover St. Louis history as related to civil rights and share material from literary giants including William Shakespeare, Robert Frost, Langston Hughes and others. Audiences will experience different forms of performance art including storytelling, singing, prose, personal narratives, thought-provoking poetry and theater. In addition, the program offers moral education and values clarification in an intriguing fashion that is not preachy, but stimulating.
The performance is 60 minutes, and can be booked with an additional talk back workshop where ideas and themes will be further explored and discussed. The follow up workshop ranges from 60-90 minutes to half day session, and can be adapted for specific audiences and ages.
We recommend this important and relevant performance for older students & adults. This "straight talk" show is aimed at middle school, high school & college assemblies & programs, and is ideal for keynotes, libraries, conferences, festivals and museums. This program can also be booked for diversity days, in-service training or multi-cultural celebrations for larger companies and small business owners.
Download a handout that contains discussion themes & activities.
Download a handout that contains sample questions for the talk-back session.