Sherry and Bobby…together!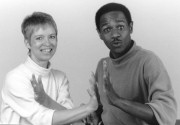 Sherry Norfolk joins husband Bobby Norfolk, a renowned storyteller in his own right, for a variety of collaborative programs that entertain and enlighten.
Sherry and Bobby Norfolk are versatile and talented performers and teaching artists, offering quality entertainment and Arts-in-Education programming. They clearly see the connection between student achievement and the performing arts, and their work successfully engages students in the learning process. Sherry and Bobby would be happy to work for you as a team, presenting special programs such as "The Moral of the Story," or "Here There Be Dragons," plus seminars, workshops, keynote speeches, and performances for professional and civic conferences, school systems, festivals, and universities - the possibilities are endless.