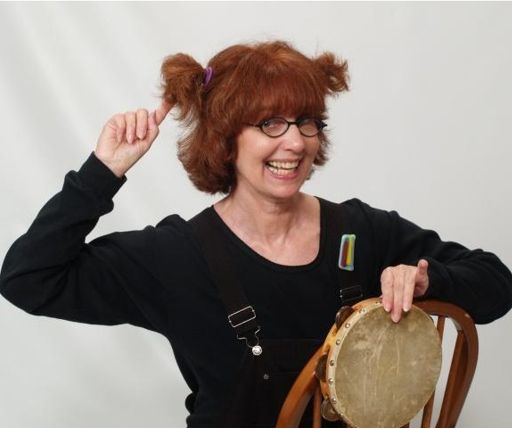 Annette Harrison
Storyteller! Educator! Author!
Annette Harrison's energetic, interactive, amazing storytelling has made her one of St Louis's most popular storytellers! For over 36 years, Annette Harrison has WOWED her audiences at schools, libraries, museums, churches, synagogues, and Early Childhood and Young Authors conferences. Annette has special expertise in early childhood storytelling. Sharing stories with the young child has long been her passion! For 20 years she has taught literacy workshops to early childhood teachers for Missouri Humanities Council and the St Louis Community Colleges. Her book, EASY TO TELL STORIES For Young Children is one of the best selling storytelling books to date. She is passionate about teaching literacy, character education, diversity, environmental awareness and American History through stories.
News: Annette wins an Oracle Award!
The National Storytelling Network has awarded Annette Harrison the 2011 National ORACLE Award for Regional Storytelling Excellence.
New Storytelling Programs:
Three Flags, Three Friends: The Founding of St. Louis
Celebrate the 250th Anniversary!
In this exciting historical storytelling program you will be taken back in time to 1764 when Pierre Laclede declared that "St. Louis will become one of the finest cities in America." Meet the founding families, including a 14 year old who supervised the building of this early French settlement west of the Mississippi. Learn about the multicultural community that allowed the daughters of a freed slave, a Native American and a French settler to be best friends! See the flyer.
CELEBRATE MISSOURI: Stories that Make Missouri Unique
Annette will weave together stories to bring alive the unique history of Missouri. You can chose to visit the 1904 World's Fair, take part in an Orphan Trains adventure, float along the Mississippi River and meet Mark Twain or learn about the founding of St Louis. This program will make you proud to be a Missourian!
Revival!
Abraham Lincoln Bicentennial Storytelling Program
Annette's new living history storytelling program, ABRAHAM LINCOLN BICENTENNIAL: Stories of an Amazing Man! is a 45 minute, interactive celebration of the bicentennial of the birth of our 16th president. He was a courageous, fair-minded, intelligent, kindhearted and fun-loving man, a true American original! She tells his story with music, props, timelines, letters and heartwarming stories of his relationship to his wife, Mary Todd Lincoln, her freed, former slave seamstress, Elizabeth Keckley, his children and many others. Come celebrate Lincoln's legacy and learn to love and admire this amazing man!
Orphan Trains: From New York to Missouri - a forgotten part of Missouri and American history.
Living history presentation still available!
Orphan Trains: Imagine 200,000 children taken off the streets of NY and sent west by train to find new homes. Using primary resources such as diaries, letters, and quotes from first person accounts, Annette brings this era alive with 45 minutes of history, music, characterizations, and stories.